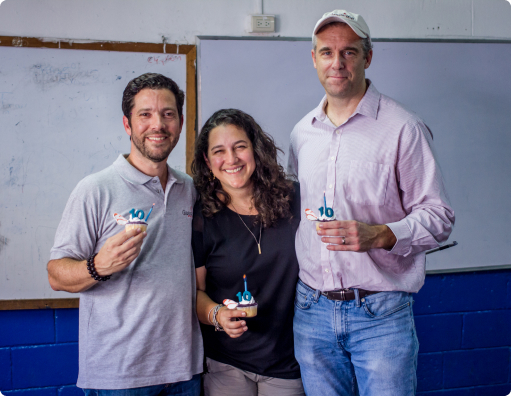 Our Story
In 2007, Celina de Sola, along with her brother Diego, and her husband, Ken Baker, founded Glasswing International in San Salvador, El Salvador. The concept was simple: foster change by investing in a community's existing strengths and resources – its infrastructure and its people.
After spending many years traveling the world as a humanitarian relief worker, and working as a social worker and public health specialist, Celina felt compelled to return home and make a difference in Central America.
Drawing on her experiences, she saw an opportunity to combine an international perspective with a hands-on, grassroots approach to transform vulnerable communities across the region.
Diego, who was living in El Salvador, working in the private sector, and serving as a World Economic Forum Global Fellow, felt it was a critical time to find a better way to push individuals, businesses, and community members to learn to work together to promote progress. He saw Glasswing as a vehicle to empower communities and create opportunities for individuals to take responsibility and be agents of change for a brighter future.
After years of working as an executive in the private, public, and non-profit sectors, Ken believed making a lasting impact and sustainably addressing development challenges was best made through the creation of a strong, local organization. Glasswing was built as an innovative, local organization with a global perspective and a commitment to empowerment, local solutions, and efficiency.
What's In Our Name?
Butterflies have long been considered symbols of positive transformation. The Glasswing butterfly is native to Mexico and Central America, with transparent wings that represent our organization's commitment to transparency. Just like the butterfly effect, we believe one small act can achieve great things.
In Fifteen Years
Our programs engage members of communities, deepening our impact. Since 2007, we have directed more than $140M in funds toward health and education programs and impacted the lives of more than 2.2 million people.
412,631+
Participants in education initiatives
371,903+
Participants in health initiatives
142,936+
Volunteers Mobilized